Home Theatre is constantly evolving but choosing the right component parts to make up a successful Home Theatre installation is critical. The TV (or the Projector) and the AV receiver/amplifier are the key components that must work together seamlessly for the true Home Theatre experience.
With the Sunshine Home Theatre team, you get our experience and knowledge of what equipment connects well with other equipment. We can help you to achieve what you want within the budget. Everything from the installation of a TV on a wall or connecting a soundbar, right through to a fully automated Home Theatre system with drop down screen and projector. We can also help with distributing Foxtel to all TV's as well as installing music zones through-out your home.
Call us on 54791999 and book a free consultation. Let us help you bring your plans and ideas into reality.
So you want to work out what it would cost for a basic Home Theatre system? Or maybe you want to just buy the right gear yourself? Here are a few product suggestions. Now because the technology changes all the time the following information is only valid for 2018 but it should help as a guide to what you need:
Home Theatre Supplies
We can supply and install:
Remote Controls
Amplifiers
Soundbars and wireless sub woofers
Speakers – In wall, On wall and In ceiling
Sonos wireless speaker systems
Projectors, Screens and Mounts
Smart TVs
Bluray Players
Wireless Headphones
Bluetooth transmitters
HDMI distribution
Foxtel distribution
Leads and accessories
AV Racks
Just ask and we should be able to help!
TV Wall Brackets
Would you like to have your TV mounted on the wall and no visible cables? How about a wall bracket for the Bedroom TV?
We supply and install all sized brackets, fixed, swivel or tilt. Whatever the function, whatever the design, we can supply & install to suit your needs.
Proud distributor of the full range of Sanus TV and AV brackets and Equipment Racks and .
Our recommendations for the most common TV sizes are as follows:
For large TVs, 50″ – 92″, the Sanus Advanced Tilt TV Wall Bracket – can be extended 5.75″ away from the wall. Maximum carry load 68kg.
For multi-swivel brackets, the Sanus Slim Full Mount TV Wall Bracket 40″ – 80″ TVs
For a flat mount, the 50″ – 70″ Wall Bracket or the Secura Large Fixed TV Mount 40″ – 70″ Low Profile Bracket.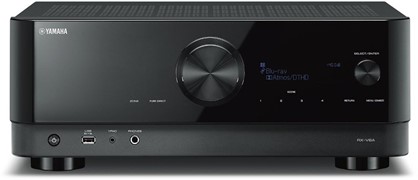 Amplifier/AV receivers
Firstly, you do now need a 4K AV receiver and it needs have the HDMI 2.2 standard – this should be printed on the front of the machine. Personally, I really like the new Yamaha AV receivers – Brilliant amplifiers with every connection you could ask for! And the wireless Musiccast system is excellent.
Large TVs
For the large TV's the Samsung 65″ and 75″ BASIC 4K TV's are brilliant and an affordable price. The Samsung has the best range of apps and connects more easily to most smart devices than any other brands at this time.
The 75″ are the better bang for your buck – unless you really need the 82″ for that extra wow factor.
However, my advice is buy the 75″ and spend the savings on the Amplifier and 4K Bluray player or a top of the line sound bar and subwoofer kit.
For the latest and greatest then the QLED Q7 65″ and the Q7 75″ are great images but they are no bargain.
Projectors
If size matters then you cannot go past a good mid-range projector for your buck with a 120″ image for under $4,000 but beware – the room has to be properly set up for a Home Theatre projector.
You must have enough room – if you sit too close the effect is spoilt.
You must be able to darken the room properly or again, the effect is spoilt.
So here are my suggestions – For your projector choices I would go for the Epson EH-TW8300 which is a full High Definition projector with 4K enhancement. This is perfect for general use for High Definition TV and High Definition Foxtel channels as well as Blu-Ray DVDs. One of the big benefits with this projector is if you feed lower resolution images into it, it will up-convert them quite successfully.
The other benefit is the large range of adjustments for distance, screen size, plus vertical and horizontal lens shift, making it very versatile. The lamp life is up to 5000 hours and Epsom advertises the genuine replacement lamp at $139 which makes it very affordable. The drawback is it is a large projector.
If, however it just has to be Ultra High Definition 4K then the Optima UHD60 is a great choice. They also have a budget version with the UHD50, but be alert that these require a much more precise location for the projector as they have minimal adjustment. Both these have lamp life of up to 15,000 hours. Replacement lamp costs around $365. However we have noted that the difference between the 4K image and Full High Definition is not huge in this range. If you are upgrading to 4K then you will need everything else upgraded to 4K too (ie, Amplifier, Leads, etc) and even with all that you can sometimes still have connection issues.
Blu-Ray Players
For 4K Blu-Ray players I would go for the Panasonic DMPUG400GNK or the Samsung UBD M8500. Everyone has an opinion when it comes to what is the best piece of equipment. There are so many choices out there. These are good buys in my opinion.
What we learn through our installations is what works well together so give us a call and let us guide you through without the sales talk and jargon. We offer an obligation free onsite consultation so call us on 5479 1999 for an appointment.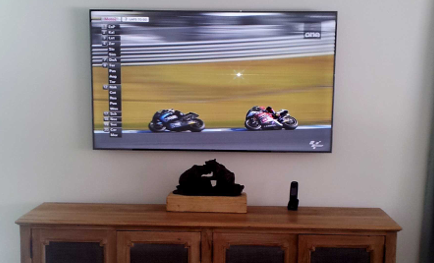 Part of the service for our customers
We know where to get the best prices, we know what warranty to get, and what equipment works with what.
We know what is easy to use and what is hard and we know how to set it up and get the best out of it and we can show you how to use it and write up the instructions for you.
We will even pick up and deliver the equipment all as part of the package.
Just contact our office and we will arrange everything. And you are very welcome to send in your friends or your family and we will happily look after them too.
Home Theatre Options
There are many options to choose from when it comes to Home Theatres. All of our installations are custom designed.
We offer a free 'walk through' where one of our Home Theatre professionals will come to your home and discuss with you your plans, ideas and space, and work with you to create the perfect Home Theatre set up for you.
Home Theatre needn't be complicated or difficult. Have one of our professional team help take the worry out of it.
Distributing Blu-Ray and Foxtel throughout your house
Because Blu-Ray and Foxtel are High Definition and because all new TV's are High Definition you will find that if you want to distribute this around your home you need to do it in High Definition – otherwise you do really notice the lack of picture quality.
Some of the current systems are not High Definition and even those that are, including distributing by HDMI, still require you to switch the TV from TV viewing to an AV input and back which is cumbersome.
The solution is to distribute the Blu-Ray and Foxtel using a new High Definition Modulator.
What this device does is take 2 High Definition sources and changes them into 2 local High Definition Digital channels. Your Digital TV can then be tuned in to these by simply Manually scanning in the TV channels. You can choose what number and for example, because Channel 4 digital is not used for other things, it is simple to make the Blu-Ray channel 40 and Foxtel channel 41.
The Modulator has an infra-red remote-control extender system built in and we simply put a sensor at any TV you want to have control.
The Blu-Ray and Foxtel come up as just another Digital TV station so you don't have to change between AV inputs and TV. Of course, you still need the Blu-Ray or Foxtel remote to control each one.
This is a very clever solution and the price of a basic kit installed starts from around $1,900 including 3 sensors.
This also has great application for pubs and clubs and you can have as many TV's on it as you like at no extra cost.