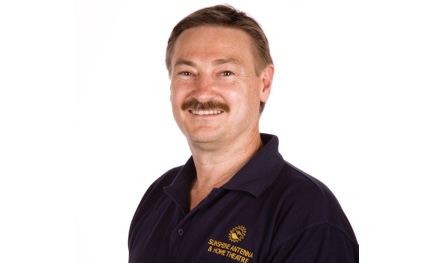 He liked it so much that in 1994 he bought the company. Then in 2001 he sold the TV repair arm of the business and changed the name to Sunshine Antenna Service. While continuing the core business of TV Antenna installations, Phil could see the increase in Home Theatre and so expanded further into this field.
Sunshine Home Theatre grew rapidly and now incorporates Commercial Audio Visual such as Board rooms and sales Show rooms as well.
Technology continued to move forward at a rapidly increasing rate so becoming proficient in Digital Television, Satellite and Foxtel distribution, large TV systems, and now Wi-Fi and CCTV and Alarm security systems became a necessity.
Phil is proud of the amount of manufacture technical training that he and his team has done over the years. He also took the time to get his Master Cabler's Licence with accreditation for Coaxial and Structured data cabling.
And with security becoming such an issue we obtained our Security Installation and Consultant Licences along with all the needed clearances and association membership, to ensure that we could supply the very best advice and installations for our clients.
Just this year alone we have attended training on HDMI over Ethernet, Networking, Wireless point to point links, Wi-Fi, CCTV and Alarm System integration. This has been vital just to keep pace with the changes!