Picture breaking up after Auto Tuning is carried out on the TV or PVR
This explanation will help those who are experiencing reception issues after carrying out "Auto Tune" to tune TV Channels on a TV or PVR.
On the Sunshine Coast most homes are able to receive signals from multiple transmitters.
When an Auto Tune is carried out on the TV, the TV tuner may select and lock onto a channel from a weaker transmitter tower for which the antenna is not aligned. As a result the TV will no longer lock on to any further signals for that particular channel. The symptom you may see is that 2 or 3 channels are OK and the others are breaking up.
Common signs to look for:
Intermittent glitches at times
Goes intermittently to "No Signal" at certain times of the day or night.
It may only effect some channels.
To overcome this issue a Manual Tune needs to be carried out.
The steps are as follows:
Unplug the antenna lead from the TV or PVR
Carry out an Auto Tune (this will wipe all stations from the TV's memory)
Plug the antenna lead back into the TV or PVR
Determine, by looking at the direction of the antenna, which TV Transmitter Tower the antenna system is designed to pick up (see attached Map)
Go to the TV menu and find "Manual Tuning"
Using the table below, follow your TV instructions to manually tune each "Tuning Channel" for your specific TV Transmitter Tower. There are five channels in total.
If there are still problems after the manual tune in, it is safe to say that it may be a TV or antenna problem.
Call our office on 07 5479 1999, we can help get to the bottom of the issue.
Office hours 8:30am – 4pm Weekdays
TV Transmitters Tower Locations on the Sunshine Coast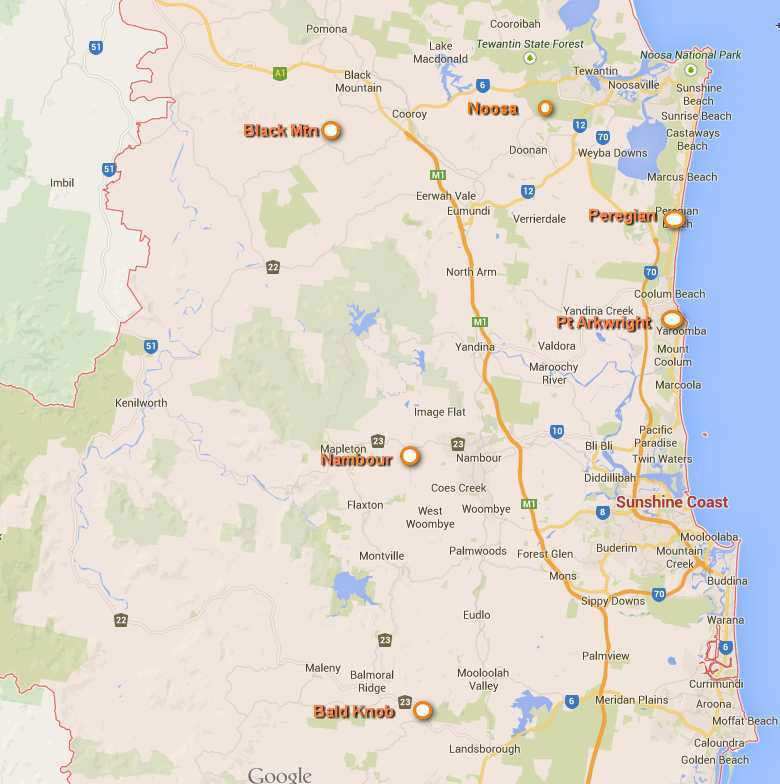 Channels Numbers for TV Transmitters – Sunshine Coast & Brisbane
Nambour (Dulong) H
Noosa (Sunrise Rd) V
Cooroy (Black Mtn) H

Viewing Channel

Tuning Channel

Freq (MHz)

SBS

3 & 30s

40

613.5

ABC

2 & 20s

41

620.5

Regional 7

6 & 60s

42

627.5

WIN (Local 9)

8 & 80s

43

634.5

Southern Cross TV (Local 10)

5 & 50s

44

641.5

Bald Knob North (Local Channels) H

Viewing Channel

Tuning Channel

Freq (MHz)

WIN (Local 9)

8 & 80s

46

655.5

Southern Cross TV (Local 10)

5 & 50s

47

662.5

Regional 7

6 & 60s

48

669.5

ABC

2 & 20s

49

676.5

SBS

3 & 30s

50

683.5

Bald Knob South (Brisbane Channels) H

Viewing Channel

Tuning Channel

Freq (MHz)

Seven Network

7 & 70s

34

571.5

SBS

3 & 30s

35

578.5

Nine Network

9 & 90s

37

592.5

Ten Network

1 & 10s

38

599.5

ABC

2 & 20s

39

606.5

Pt Arkwright V
Peregian V

Viewing Channel

Tuning Channel

Freq (MHz)

ABC

2 & 20s

29

536.5

Regional 7

6 & 60s

30

543.5

WIN (Local 9)

8 & 80s

31

550.5

Southern Cross TV (Local 10)

5 & 50s

32

557.5

SBS

3 & 30s

33

564.5

Brisbane VHF H

Viewing Channel

Tuning Channel

Freq (MHz)

BTQ 7

7 & 70s

6

177.5

SBS

3 & 30s

7

184.5

QTQ 9

9 & 90s

8

191.625

TQV 10

1 & 10s

11

219.5

ABC

2 & 20s

12

226.5
Antenna Polarity: H = Horizontal V = Vertical